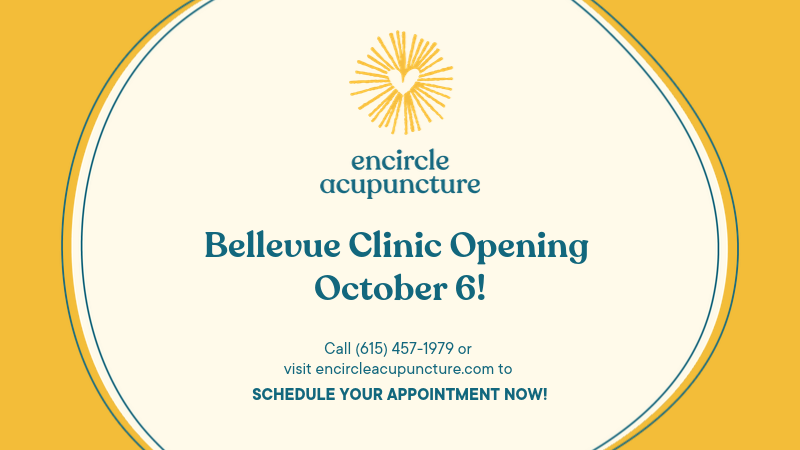 We are so excited to share that the Bellevue clinic will be opening on Sunday, Oct. 6!
This has been something we have been working toward for months and we are thrilled to finally bring affordable acupuncture to even more people in Nashville! We can't wait for you to see the new clinic.

We will be hosting a grand opening on Friday, November 1 from 4 – 7 p.m.! We will have more details on this soon, but for now, we hope you'll save the date so you can join us for this celebration.

Bellevue acupuncture schedule now open!
Ready to be the first to visit the Bellevue location? Just give us a call or login to our online scheduler to make an appointment for the Bellevue location.
If you're using the online scheduler, you will see an option to change location under the calendar. Simply select "Bellevue" and you will see the appointment availability once you make that change.
Below is a quick tutorial to show you how to do this.

Trey Brackman will be the clinic director and acupuncturist for the Bellevue location. We plan to add more hours as we grow, but here are the hours for the Bellevue location when we first open:

New acupuncturist schedule in East Nashville
In conjunction with the opening of the new location, we are also rolling out a new schedule in East Nashville. Starting in October, we will now be opening at 8:30 am on Monday, Wednesday and Thursday. We will continue to open at 8 a.m. on Tuesday and Friday and at 9 a.m. on Saturday and Sunday.
We have also adjusted the acupuncturists schedules slightly to accommodate for the expansion. Below you will find when your favorite acupuncturist will be working!

New acupuncturist starting in October

With the growth to a second location, we are adding a new acupuncturist in October. If you looked closely at the acupuncturist schedule, you may have noticed a new name on the list––Diane Holmes!

Diane practiced as a chiropractor for several years before returning to school to obtain her Master's in Acupuncture and Oriental Medicine. She now holds dual licenses in chiropractic and acupuncture, and has been practicing acupuncture in Nashville since 2011. I'm thrilled she is bringing her expertise to the Encircle team. We'll be sharing more about Diane soon so you can get to know her. I think you're going to love her!

We can't wait to see you in Bellevue!

Thanks for all of your support as we grow into this new location. We hope to see you in Bellevue soon!