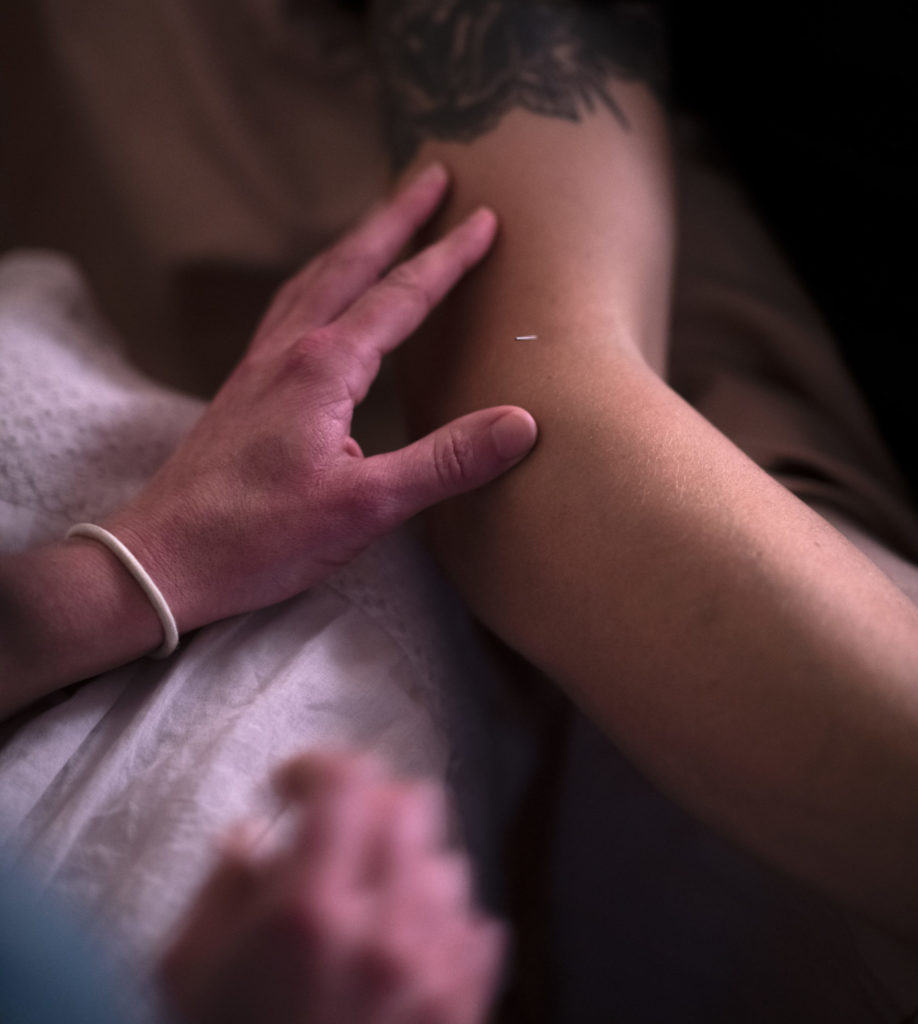 We're happy to announce that Encircle Acupuncture is back open for business with heightened precautionary measures in place to safeguard against COVID-19.
Here's what you can expect the next time you come in: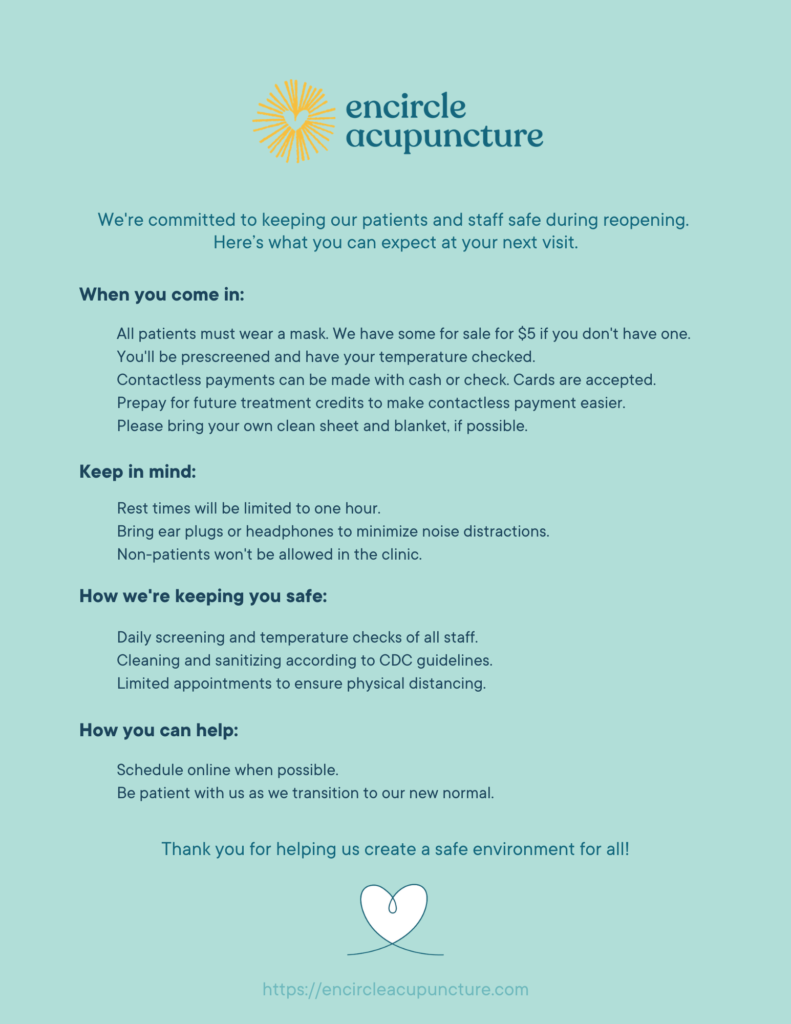 We'll open up with limited hours and staff to start, so please be patient with us during the transition. Check out our East Nashville and Bellevue locations pages for the most up-to-date information on our hours.
Want to know more about our reopening plan and new procedures? Read on for more information.
What's changing?
When you enter the clinic, you'll see a sign asking you to wait in the lobby for a prescreening and temperature check. If a staff member isn't at the reception desk, just have a seat and someone will be with you shortly. We've removed several waiting room chairs to ensure physical distancing. If you see that another patient is already in the lobby, please wait outside in the hallway.
When you check in, we'll check your temperature and ask you to fill out a prescreening form. If you haven't brought your own clean sheet from home, we'll give you one to drape over your recliner.
Our treatment room chairs have been spaced out and you'll see that several chairs are blocked off. You're welcome to choose any recliner that doesn't have a basket on it.
For now, we're limiting everyone's rest time to one hour. This will ensure adequate physical distancing.
To minimize everyone's contact with high-touch surfaces, we'll leave our treatment room doors open. This means our treatment room might be a little noisier than usual, so feel free to bring earplugs or headphones from home.
How we're keeping you safe
All Encircle staff are conducting daily screenings and temperature checks and are complying with recommended social distancing guidelines. We'll also prescreen all patients for symptoms of COVID-19 and check everyone's temperature before they enter the clinic.
Anyone coming to the clinic will be required to wear a mask, including staff and patients. If you don't have a mask, we have some (really cute!) cloth ones for sale for $5.
We're cleaning and sanitizing our spaces on an ongoing basis, following the latest CDC guidelines.
We've spread out our waiting room and treatment room chairs to ensure adequate physical distancing of at least six feet.
We're following the latest recommendations from public health and infectious disease experts, and our policies may change as new information emerges. Rest assured that we are committed to providing the safest environment possible for our patients and staff.
How you can help
For the time being, we expect to be providing only a fraction of the treatments we'd normally do. You can help keep our business going and our prices low with a few small steps.
We know that many of you enjoy relaxing in our waiting area before or after a treatment. Under normal circumstances, we love that! But for now, we ask that you limit your time in the lobby for check-in and payment only. We're also not allowing non-patients to wait in our lobby or treatment room, unless they're a direct caregiver to someone getting a treatment.
As always, please arrive on time for your appointment and let us know at least 24 hours in advance if you need to reschedule.
And again, please be patient with us and understand that we'll be working with limited staff for a while. If you call, someone might not be at the front desk to answer the phone, and we might not be able to get back to you right away. The quickest and easiest way to schedule an appointment is always online at our website.
We have missed all of you during this time and look forward to seeing you back in the clinic! Even though things have changed, we promise to still deliver the same high quality care you've come to expect from Encircle.
Sincerely,
the Encircle Acupuncture Staff
COVID-19 Resources:
Coronavirus Symptoms and Resources from the CDC
How COVID-19 Spreads
COVID-19 Screening Tool
National Alliance for Mental Illness of Tennessee
Free Coronavirus Testing in Tennessee