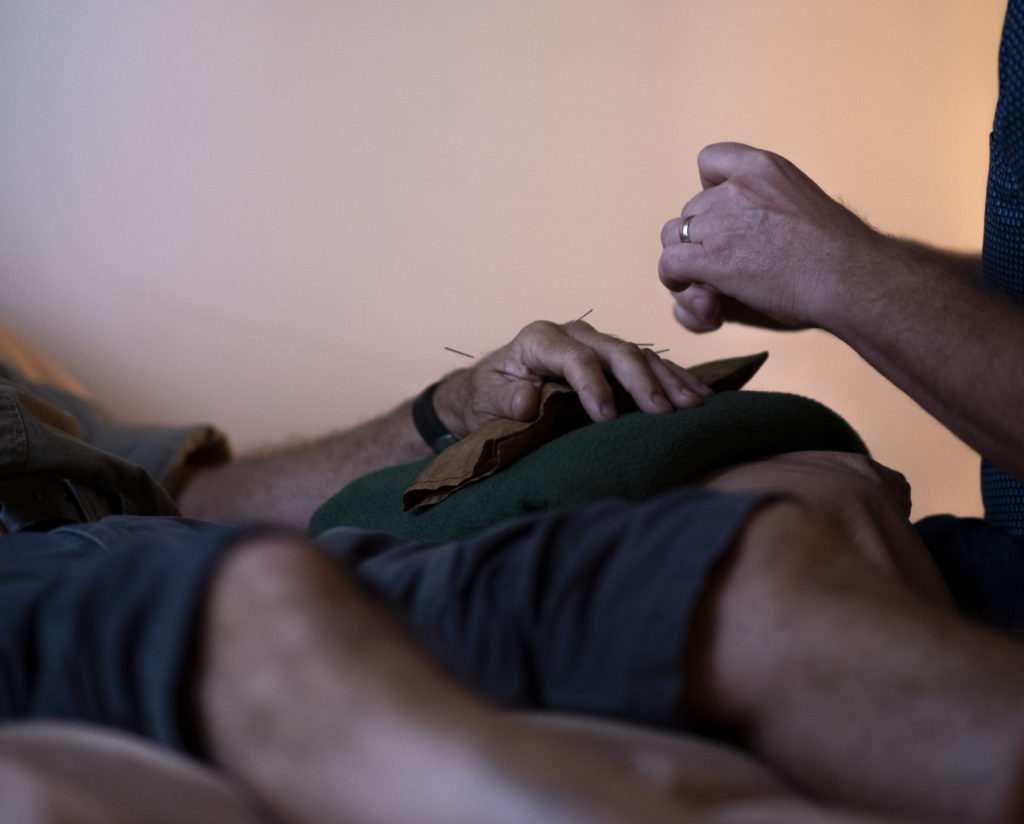 Cancer is a disease that affects almost everyone. Whether you've been diagnosed with cancer yourself, or you've cared for a loved one as they've undergone treatment, chances are you've been touched by cancer in some way. But did you know that acupuncture offers numerous benefits for cancer patients? It's great for caregivers too! Read on to learn more about how acupuncture helps cancer patients, including some of the latest research.
7 Ways Acupuncture Benefits Cancer Patients
The National Institutes of Health (NIH) have been studying the effects of acupuncture for cancer-related symptoms and side effects for over 20 years. Research studies both in the United States and abroad have shown that acupuncture offers many benefits for cancer patients. Here are the top seven ways we use acupuncture to help cancer patients at Encircle.
1. Relief from chronic pain and reduced painkiller use
More than 70% of cancer patients experience pain related to their disease. This can take many forms, such as neuropathy, joint pain, or post-operative pain. One recent systematic review found that acupuncture and/or acupressure are associated with significant reductions in pain intensity and lead to reduced use of opioids for pain management.
Another study concluded that acupuncture can reduce joint pain caused by drugs called aromatase inhibitors, which are often prescribed for patients with early-stage breast cancer.
And another recent study in the UK found that acupuncture can reduce pain in patients with chemotherapy-induced neuropathy.
2. Reduced nausea and vomiting from chemotherapy
Some of the strongest evidence for acupuncture has come from clinical trials on the use of acupuncture to relieve nausea and vomiting, including a 2013 review of 30 randomized controlled trials.
One of the most commonly used acupuncture points for nausea and vomiting is Pericardium 6, also known as Nei Guan or Inner Gate. This is also a great point for self-acupressure and can be used to relieve any type of nausea and vomiting, whether it's due to chemotherapy, pregnancy, or gastrointestinal issues.
3. Reduced stress, depression and anxiety
This is one area where acupuncture benefits anyone who's affected by cancer, whether they're a patient, a caregiver, or a concerned loved one. Facing cancer is one of life's most stressful situations, and acupuncture has long been recognized for its positive effects on stress, depression and anxiety. Community acupuncture is particularly well-suited to address these concerns since friends and family members can get treated together. It's a wonderful way for caregivers and loved ones to participate in the cancer patient's healing. Acupuncture is very relaxing, and during a time when a patient is constantly going to the doctor, getting blood drawn, and taking medications, it's one appointment that you can actually look forward to!
4. Relief from hot flashes
Breast cancer patients often experience hot flashes as a side effect of hormonal therapy. In Traditional Chinese Medicine (TCM), this is usually seen as an excess of the body's warm, yang energy and a deficiency of the body's cool, yin energy. Acupuncture helps bring the yin and yang aspects back in the balance, clearing out the body's excess heat and its supporting the cooling aspect. A 2016 study published in the Journal of Clinical Oncology supports earlier research showing that acupuncture can help ease hot flashes and improve quality of life in patients who've been diagnosed with breast cancer.
5. Relief from dry mouth and improved appetite
Radiation treatment often leads to dry mouth, making swallowing difficult. A recent study from the University of Texas MD Anderson Cancer Center showed significant improvement in dry mouth symptoms for patients who received acupuncture. "The evidence is to a point where patients should incorporate acupuncture alongside radiation treatment as a way to prevent the severity of dry mouth symptoms," said principal investigator Lorenzo Cohen, PhD.
Acupuncture can also help restore appetite and regulate elimination, and a 2014 feasibility study found that acupuncture improved appetite in patients with gastrointestinal cancer.
6. Better sleep
Numerous studies have demonstrated that acupuncture is helpful for treating insomnia. This is another area where both cancer patients and caregivers benefit, since insomnia is so often associated with stress and anxiety. Better sleep leads to a stronger immune system, more energy and better mood, and helps create optimal conditions for the body's natural healing processes to occur.
7. Ongoing physical, mental and emotional support
Regular acupuncture guides the body toward a natural state of health by restoring balance. It helps manage the side effects of cancer treatments, while promoting the body's own natural healing processes. It's relaxing, safe, and time-tested. And our community setting makes it affordable and allows cancer patients to receive treatments alongside their friends and family.
Managing Cancer Treatment Side Effects with Acupuncture: Leslie's Story
Leslie started visiting Encircle Acupuncture thanks to encouragement from her husband. He had been seeking acupuncture treatment at Encircle because he had a stroke and was having some pain in his back. He went from not being able to walk around the block without pain to being able to walk several miles pain-free. And that was only after a month of acupuncture treatment. It changed his life.
Leslie was diagnosed with Stage 4 Lung Cancer in November 2017. She is a non-smoker who has a very rare form of lung cancer driven by a genetic rearrangement. The challenge with this form of cancer is that it will respond to treatment for awhile, but then it will mutate.
Acupuncture Relieves Cancer Treatment Side Effects
Leslie had been on a type of targeted treatment that failed and the cancer ultimately metastasized to her brain. She was facing some really scary decisions about treatment. She entered a clinical trial for a new targeted therapy. This new therapy is working and the metastasis in her brain is gone!
The only downside is that the treatment causes a lot of challenging side effects, such as brain fog, neuropathy and edema in her legs. Leslie uses acupuncture to help manage all of the side effects from her cancer treatment. In particular, acupuncture has helped relieve the neuropathy in her hands and has also improved the anxiety that has come with a life-threatening illness.
Watch her full story below to see what a difference acupuncture has made in her life.
Leslie chronicles her cancer journey on her blog Sojourn & Stardust. In her latest post she shares good news about some recent scans. Her writing is honest and uplifting—check our her blog and subscribe for her latest updates!
Have you or someone you know been affected by cancer? We're here to help! Visit our website to schedule an appointment online or call us in East Nashville at (615) 457-1979 or in Bellevue at (615) 645-9866.
---
Sources
https://www.uwhealth.org/alternative-medicine/top-5-benefits-of-acupuncture-in-cancer-care/38546
https://www.cancer.gov/about-cancer/treatment/cam/patient/acupuncture-pdq
https://exploreim.ucla.edu/self-care/acupressure-point-p6/
https://www.cancer.gov/news-events/cancer-currents-blog/2018/acupuncture-aromatase-inhibitor-joint-pain
https://www.breastcancer.org/research-news/acupuncture-helps-ease-hot-flashes
https://www.psychologytoday.com/us/blog/integrative-mental-health-care/201905/acupuncture-insomnia-concise-review
https://www.mdanderson.org/newsroom/acupuncture-reduces-radiation-induced-dry-mouth-for-cancer-patients.h00-159308568.html
https://www.curetoday.com/articles/acupuncture-reduces-cancer-pain-and-painkiller-use-study-finds
https://sojournandstardust.blogspot.com