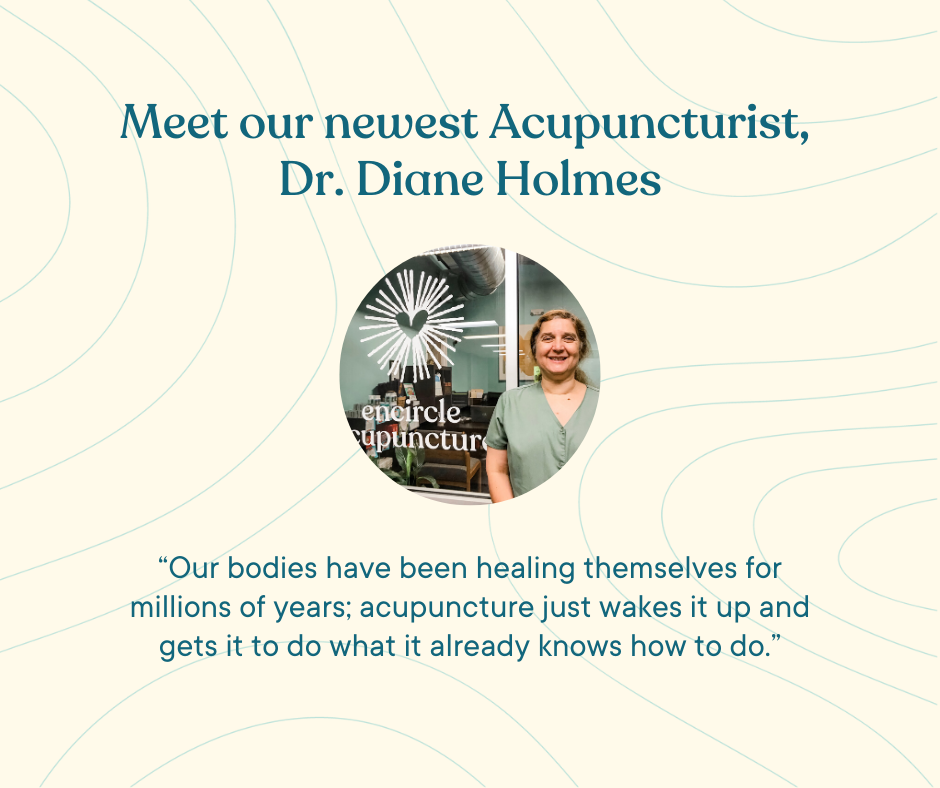 Have you met Diane Holmes yet? She's a Licensed Acupuncturist, Chiropractic physician, and the newest member of the Encircle team! Diane began her career in the medical field in 1989 after graduating from Life Chiropractic College West in California, and in 2003 she returned to school to study acupuncture and Traditional Chinese Medicine (TCM). She's had a private practice in Nashville for many years, and joined us at Encircle in October. We're thrilled that she's bringing her nearly 30 years' experience in the complementary medical field to our patients.
Recently we had a little Q&A session to talk more about her background, what she loves about acupuncture, and what she likes to do for fun!
Talk about the path that led to you becoming an acupuncturist. What did you do before becoming a chiropractor and LAc?
Way back in my long-lost youth, I mostly worked a lot for lawyers. They're smart, they pay better than most, and they appreciate good, conscientious work. But I had wanted to be a doctor since I was a kid, so I finally managed to become a chiropractic physician.
You started your career in healthcare as a chiropractor—how long have you been practicing chiropractic medicine?
1990 was when I got my California license to practice chiropractic medicine. 1993 was when I moved to Tennessee and began practice here. Except for some time off to get a master's degree in Chinese Medicine, I've been licensed (and practicing) ever since.
What made you want to incorporate acupuncture into your chiropractic practice?
I found out fairly quickly as a chiropractor that if I had a patient that I could not get better, but who didn't have a genuine medical issue (which is not at all uncommon), that if I referred them to a good acupuncturist they almost invariably DID finally get better. So when the time came that I wanted a change from what I was doing while still staying in the field of alternative medicine, becoming an acupuncturist myself was a no-brainer.
In Tennessee, a chiropractor can practice acupuncture after completing 250 hours of training. But you decided to go back to school and complete a full 4-year Master's degree in acupuncture and TCM. Why did you decide to complete more schooling than required?
Because no one really learns acupuncture in 250 hours. That's ridiculous. Some time in the 1990s I took a 100-hour acupuncture class for chiropractors, and all that taught me was how much I DIDN'T know about acupuncture. All anyone can do after only a couple hundred hours training in acupuncture, regardless of their prior education, is a kind of cookbook "do this point for back pain" kind of thing. It's better than no acupuncture at all, but it certainly isn't bringing the full powers of that medicine to bear, and I had too much respect for the medicine by then to want to do a sloppy job of it.
Many of our patients utilize both chiropractic medicine and acupuncture. What do you think are the benefits of using both modalities?
There is nothing like a good adjustment. It is fast and inexpensive, and you get instant pain relief and normalized range of motion in your joints, which is key to healthy everyday (and lifelong) function. Everyone should get adjusted regularly! But it's not a substitute for acupuncture. Acupuncture reaches deeper into the brain and nervous system, and can be fine-tuned to treat many more disorders than chiropractic can treat.
What are some of your favorite conditions to treat and why?
I like treating pain conditions most of all, because pain is what keeps most people from living their lives the way they'd most like to. Sciatica is one of my favorites, because there are just no good medical treatments for it and adjustments often don't work well (or quickly) on nerve pain conditions like sciatica and acupuncture works fabulously well. Headaches and allergies are also fun to treat, because those conditions are poorly treated by conventional medicine as well.
What do you love most about practicing acupuncture?
It is great to be a provider of something that helps people so much, but that is still so uncommon. And acupuncture actually nudges your body to heal itself. Our bodies have been healing themselves for millions of years; acupuncture just wakes it up and gets it to do what it already knows how to do. It's a remarkable therapy, and one that I am privileged to have been able to learn and use.
What's something acupuncture has helped you with?
Shoulder pain. I can even get my own needles in to treat it!
What would we most likely find you doing on your day off?
Working in the yard, playing with the cat (Goldie-Bast), on the phone with friends and family (few of whom live around here), and shopping at Trader Joe's.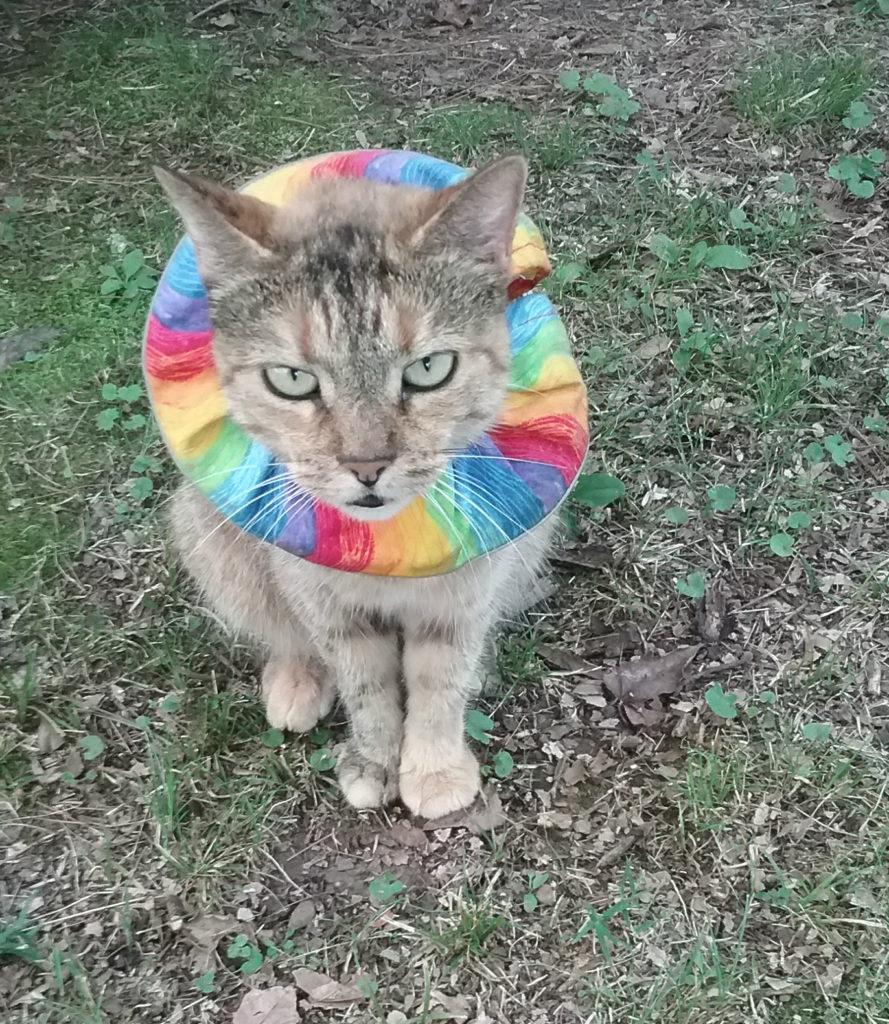 What's something someone would be surprised to learn about you? Any fun facts or hidden talents?
I spent a number of years training in martial arts (although that's history now). I love horror movies — I always have, especially the East Asian ones. And I enjoy writing, and I think I'm good at it — I've written a bi-monthly email newsletter for my private patients for about five years.
Want to learn more? Diane's email newsletters are archived on her website.
Diane currently works at our East Nashville clinic on Fridays and Saturdays—you can schedule an appointment with her online or call us at 615-457-1979.