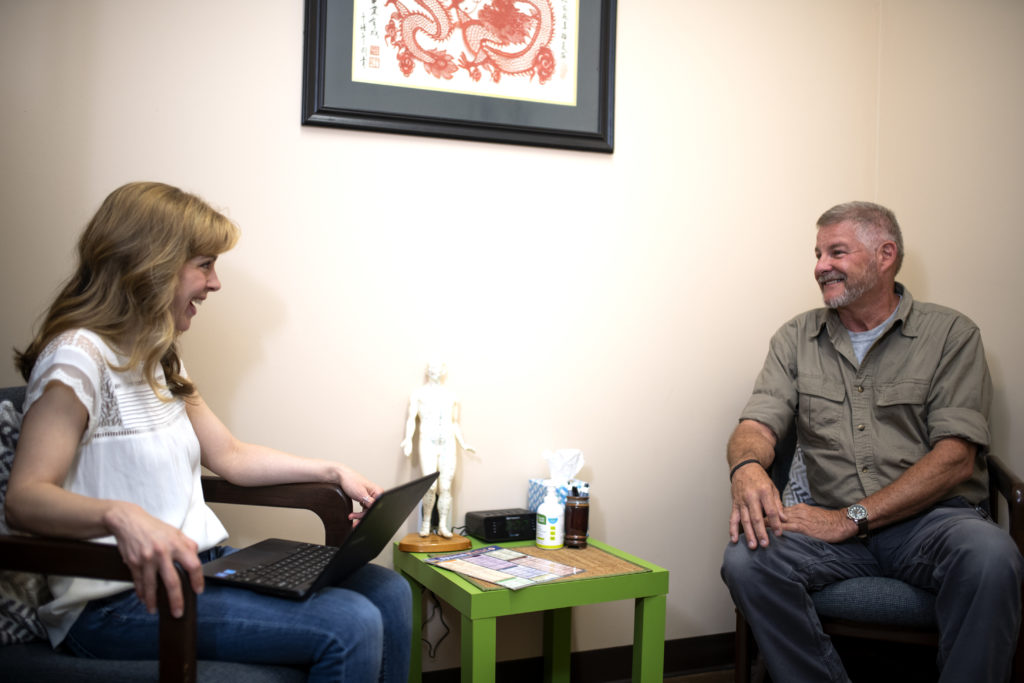 Many of our new patients have never had acupuncture before coming to our clinic, and naturally have questions about the process. Here's a little information about what to expect when you visit Encircle Acupuncture for the first time.
New Patient Consultation
You'll start with a New Patient consultation with one of our acupuncturists. During the consultation, you'll tell us why you're coming in for acupuncture and what you'd like us to help you achieve.
Some people come in for a very specific complaint, such as lower back pain or difficulty sleeping. Other people are just curious and want to try it out, or need some help managing stress.
During the intake process, we won't go into detail about every aspect of your health history or a lengthy explanation about how acupuncture works; instead we'll stay focused on your chief complaints and how acupuncture can help you.
Your Recommended Treatment Plan
During the consultation we'll recommend a treatment plan, which can be anything from "we'd like to see you once a week for six weeks" to "we'd really like to see you every day for the next four days."
The treatment plan we recommend will be based on our experience with treating different conditions. Almost all of our patients require a course of treatment, rather than a single treatment, in order to get the best possible results from acupuncture.
Your First Acupuncture Treatment
Once your consultation is complete, you're ready for your first treatment in our large, comfy, quiet community room. You'll be in the room with other patients who are also getting treated and resting.
What to Expect in the Treatment Room
Before you go into the treatment room, please be sure to silence your cell phone.
Once you go into the treatment room you can have a seat anywhere you like, then take off your shoes and socks and put all your belongings in the basket next to your chair. Roll up your sleeves and pant legs, and get comfortable!
Once you're situated, your acupuncturist will feel your pulse, and then place a few needles in your head, arms and legs. The whole process only takes a few minutes.
Once all the needles are in, it's time to rest! We'll remove your needles after an hour, but if you're ready to be done sooner, that's fine. There's no "right" amount of time, and most patients learn what feels best after a treatment or two.
We won't disturb you if your eyes are closed, so whenever you feel done, just sit up in your chair, open your eyes, or give your acupuncturist a wave. If you ever need to leave by a specific time, please tell us so we can pull your needles on time.
How to prepare for your first appointment
Please note that there is a one-time additional $20 fee for your new patient consultation.
Before your first visit, you'll need to fill out your New Patient intake form. You'll receive an email with a link to your form; it should take about 10-15 minutes to complete. If you're unable to complete your form ahead of time, please plan to arrive 20 minutes early for your first appointment so you can complete the form at the clinic.
A few other guidelines for getting treatment with us:
Please do not wear any perfume, cologne or scented lotions. Many of our patients are sensitive to smells.
Plan to be at the clinic for about 90 minutes for your first treatment. Follow-up treatments may not take as long.
Wear loose, comfortable clothing with sleeves that can be rolled up to the elbows and pants that can be rolled up to the knees.
The treatment room has soft, soothing music playing, but you may bring earplugs or headphones if you prefer to listen to your own music.
Please eat a little something beforehand. Acupuncture is not recommended on an empty stomach.
Don't plan to engage in any strenuous activity right after receiving acupuncture. It's best to let your body relax afterwards.
Our current COVID-19 safety measures include:
Masks required at all times
Limited appointments, seating and rest times
Cleaning in accordance with CDC guidelines
Click here for more about how we're keeping you safe
Arriving Late and Cancellations
We realize your time is valuable. Ours is too, and we hold an appointment time just for you. To get the most out of your time with us, and as a measure of respect to your fellow patients, it is crucial that you arrive on time for your appointments. If you are more than 20 minutes late for your first appointment, we may need to reschedule it.
Please be aware that we require 24 hours notice for cancellations. If less than 24 hours notice is given or an appointment is missed without notice, a $20 fee will be assessed.
Still Have Questions?
We hope this answers most of your questions about getting acupuncture treatment and what to expect during your first visit with us.
If you still have questions, please call us or ask one of our team members when you arrive for your appointment. We are glad to help!