December! It's that time of year when we celebrate family, friends, and lots of good food. But it's not exactly the healthiest time of year. Seasonal colds flare up due to weather changes, joints get achy as colder temperatures set in, and digestive problems abound from all the rich food and holiday cookies. And don't forget about that ubiquitous holiday stress!
It's such a busy season and it's hard to make time for yourself, so we want to make it a little easier. That's why we're offering…
The December Wellness Special!
It's really simple: come get acupuncture four times during December, and your fifth treatment is free!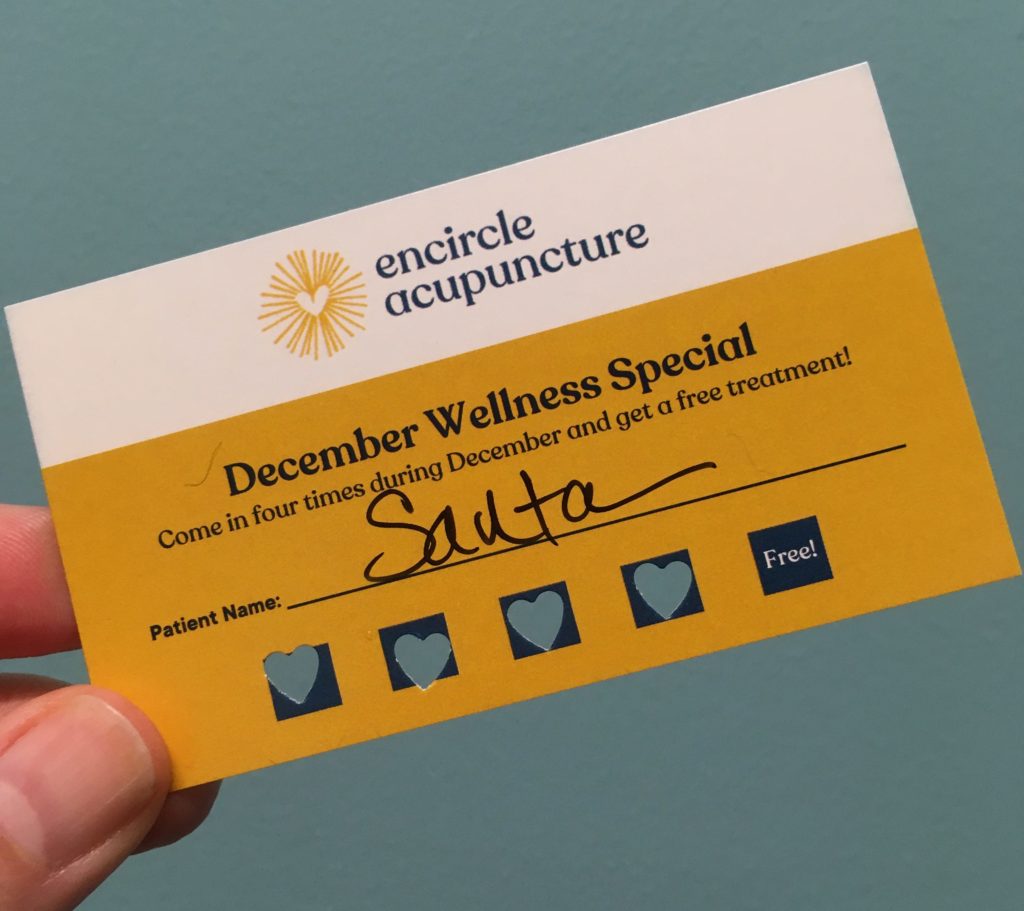 This year, we're feeling extra festive, so the December Wellness Special will start on Black Friday! Think about it—would you rather battle the crowds the mall or snooze in one of our comfy recliners?
That's right, the December Wellness Special officially starts on Friday, November 29th!
Got questions? We have answers!
Do I have to use my fifth free treatment in December? Nope, your free treatment can be used anytime and never expires.
Can I give my free treatment to a friend? Aw, that's nice—you sure can! Stocking stuffer, anyone?
I want to give my free treatment to someone who's a new patient – is that cool? Yes, that is super cool! Just know that they'll still need to pay the $15 new patient fee at their first visit.
Is this happening at both locations? Sure is! Treatments at both our East Nashville and Bellevue locations qualify, so visit whichever location is most convenient for you.
What if I'm paying with credits—will those still count toward my fifth free treatment? They sure will! When it comes to the December Wellness Special, everyone's on the nice list.
We're here to help you feel your best all year, including during the holidays. Acupuncture is a great way to keep your immune system strong, promote digestive health and better sleep, and manage stress.
Ready to relax your way to healthier holiday AND a free treatment? Schedule online or call us in East Nashville at (615) 457-1979 or in Bellevue at (615) 645-9866. We look forward to seeing you soon!